14 years ago, I had a small business selling cards, and having been inspired by visiting the famous German Christmas Markets, decided to try and create something similar in Kent.
It was a real labour of love, putting a brand new event together, where there were genuinely lovely Christmas gifts to buy – some beautifully hand-crafted, others cleverly sourced.
Our very first Christmas Market took place in October 2006 in a tiny church hall, with about 8 traders participating, selling a variety of unusual Christmas gifts.
The response was overwhelming and our visitors were queueing right down the High Street to get in and visit our little Market, not to mention to sample our delicious mulled wine!
It was then a very easy decision to expand the event into our very large, modern hall here in Elham, enabling us to welcome even more talented traders and visitors too!
With a team of volunteers helping to welcome our visitors, working hard in the kitchen serving delicious Christmas treats, as well as selling raffle tickets (we always have a wonderful raffle), it soon became firmly established in the Christmas events calendar – for both visitors and traders alike.
From our humble beginnings, the amount raised has grown from an initial £600 to last year's FABULOUS total of over £3000, helping the Pilgrims Hospices to continue their sterling work.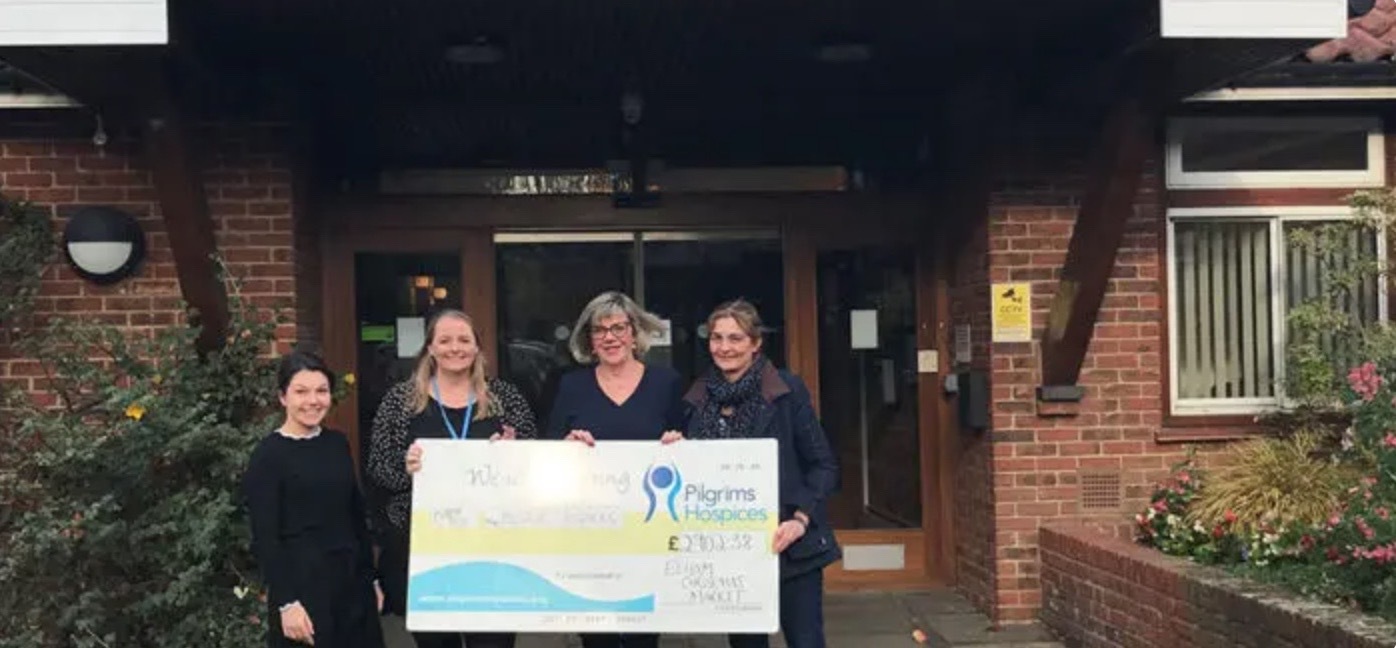 With a beautifully festive atmosphere with mulled wine, mince-pies and Christmas music in a hall bedecked with winter greenery and hundreds of fairy-lights, everyone is suddenly 'in the mood' for Christmas.
Sadly, we can't do it in the 'normal' way this year, but we have put our thinking caps on to try and create a brilliant alternative where you can still find unusual gifts from the comfort of your own home.
You can find our wonderful traders in 'The Hall' – they each have their own page with all their contact details, and can be contacted by email, or are at the end of a telephone line if you prefer to chat with them about your needs. You will also see images of some of their lovely offerings, as well as links to FB Pages, Etsy Shops or Websites. They are just waiting to hear from you, so do get in touch!
We would like to raise as much money as possible for the Pilgrims Hospices, so do head over to their page, where you will find out more about them, an opportunity to donate and the chance to WIN an incredible Christmas Hamper, full to the brim with wonderful seasonal fare, as well as a few other treats.
What are you waiting for??
Carol Stevens